SECURITY
STRAYM provides a stable system, a enhanced security certification and guarantee smooth transactions in a short time.
Our customers can rest assured that they are in good hands. We have created an environment in which you can handle the fractional ownership of art.
This page is divided into several sections STRAYM's security.
---
Management of deposits
Deposits from customers are kept completely separate from management funds. Deposits are never used as company funds for operations.
---
SSL encrypted communication
SSL is an abbreviation for Secure Socket Layer, which is a protocol that encrypts data. You can verify that a website uses encrypted communication by the following methods.
Must have a key mark in the URL field.
URL is displayed as "https://~" instead of "http://~"
Normally, communication between a web server and a browser is performed using the HTTP (Hyper Text Transfer Protocol) protocol, but HTTP does not have functions to encrypt messages to prevent "eavesdropping" or to authenticate the web server to prevent "spoofing". To prevent such problems, we use SSL for encrypted communication.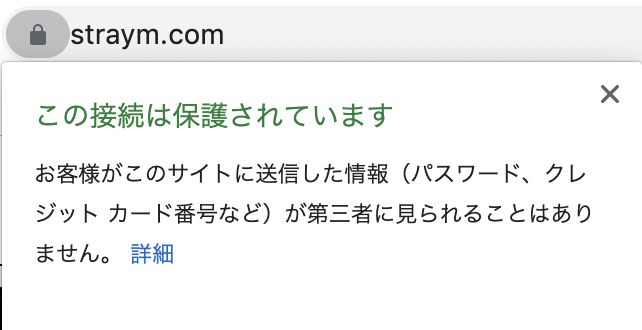 ---
Login
Password Strength Check
STRAYM recommends that you set a strong password to protect your account from unauthorized access by malicious third parties. To do this, please keep the following in mind
Please avoid friendly strings such as "1977, tanaka, straym" birthdate, your name, id used on social networking sites, etc.
Please use a password with a mixture of lowercase and uppercase letters, numbers, and symbols.
How we store your password
Your password is hashed and stored. It is never stored in plain text. STRAYM uses a hash function called bcrypt (Blowfish cipher) for authentication.
---
Identification
STRAYM performs multiple identity checks to ensure that our customers can use our services safely. This is to ensure that malicious third parties are not able to impersonate you.
Identification documents (personal)
Documents that can be used for identification documents
Passport

(please submit the page with your photo and the address page)

Residence card

(please submit the reverse side as well)

Special Permanent Resident Certificate

(Please also submit the reverse side)

Driver's license

(please also submit the reverse side)

Driving Record Certificate

(Please submit the reverse side as well. (The date of issuance must be April 2012 or later.)

Basic Resident Registration Card

(please submit the reverse side as well)

My number card

(do not upload the image of the back side)
Identification documents (corporate))
The following documents are required to be submitted for use as a corporation.
All of the following
---
Storage of artwork
Artworks exhibited at STRAYM are stored and exhibited in warehouses, facilities, or museums that have been approved as safe and optimal storage environments, and are managed under a strict storage system to protect the value of the artworks. When the location of the exhibition is decided, it will be announced on the details page of each artwork.